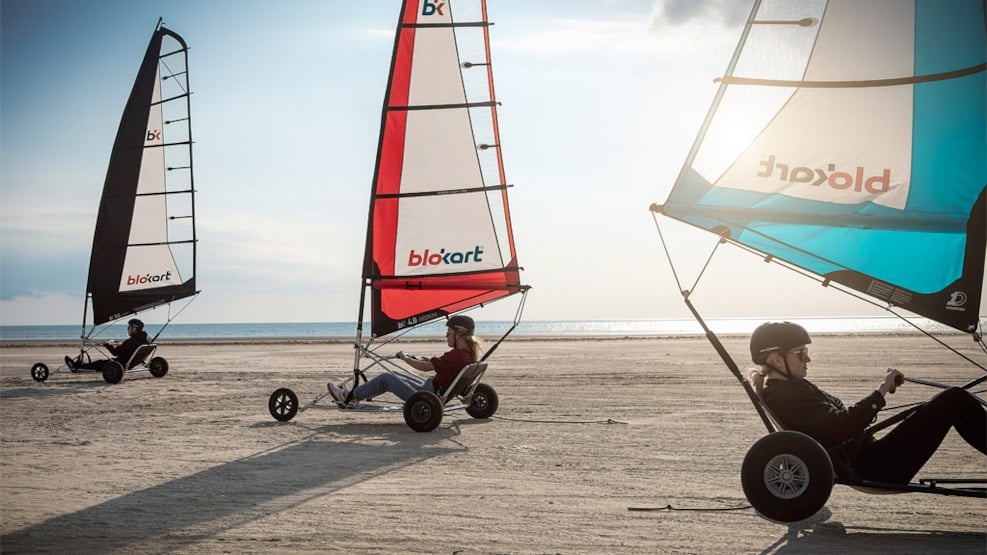 Beachracer Fanø - Blokart
Get an unforgettable experience with a race in Blokarts, three wheels, a sail and the beach on Fanø. A Blokart is roughly an sailing dinghy on wheels, speeds of 30-50 km / h are easily achieved depending on the wind.
Do not miss the completely unique feeling it is when the wind grabs the sail and you silently drive across the beach. After a short but thorough instruction, you are pushed on to the marked track. Beachracer can, as desired, set up a regatta (a marked track where you have to drive and round a number of markings) or you can drive freely on the large beach cruiser area at Rindby Strand.
Anyone can drive Blokarts. It usually takes no more than five to ten minutes before you feel that you are in control of the landyacht. Driving Blokart is not about team building and all sorts of other marketing talk. It's about having fun and trying something that makes most people laugh. Drive as a team with regular shifts or drive as you like. Beachracer has seven Blokarts. Depending on the weather, it is recommended to bring extra clothing (if it is wet on the beach) and sunglasses (if there is sun and blowing sand).
See you on the beach, racers.