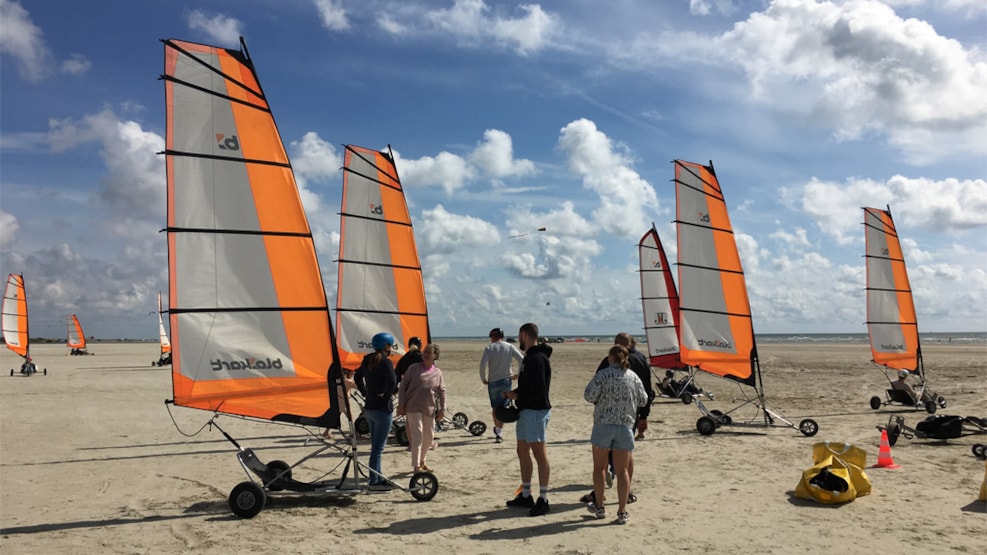 Blokart School | Club Fanø
Blokart is one the most exciting things to do on Fanø Beach. There is nothing like cruising on the Beach with your family and friends. 
Blokart is more or less a boat on wheels, and it is something everyone can learn in 10 minutes. Our instructors have 6 years of experience with blokarts on Fanø and it is primarily about learning a little about wind and wind direction and how to turn.
Blokart is for both adults and children. How old children must be to ride by themselves depends on size, weight and the weather conditions. Usually children from 11 years will be able to ride by themselves. For smaller children we have double blokarts, so a child can ride with an adult.
It is not dangerous at all to ride the Blokart. You will get a helmet and gloves and the kart has a seat belt. But remember, you are not alone on the Beach, there are other Blokart drivers and other beach users, so do as in normal traffic, take consideration to other people.
We do not rent Blokarts out without one our instructors present. Even if it is not dangerous, we want to be present to help you and ensure that everything works. Our aim is that everybody will have great time.