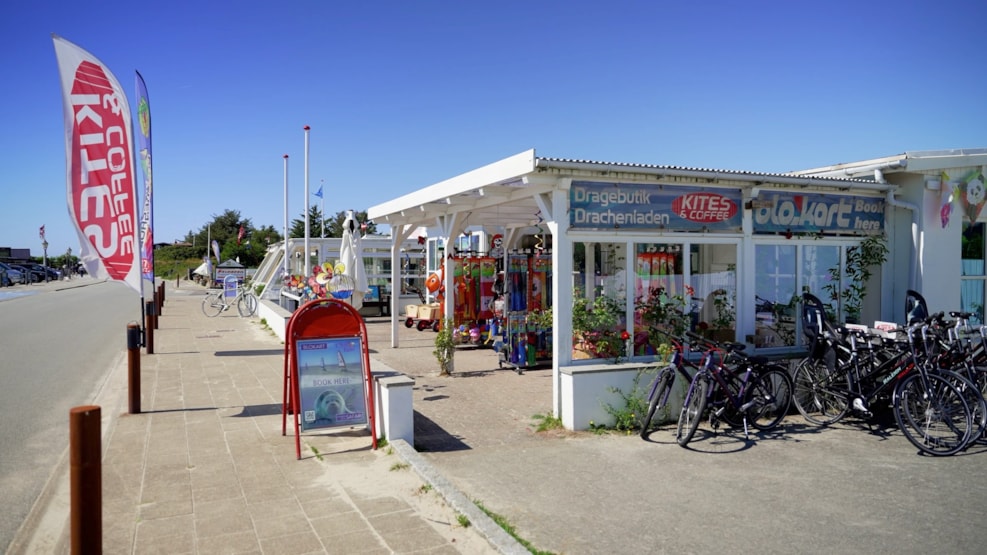 Club Fanø Rindby Strand | Fanø
The shop in Rindby Strand is both a kite shop, rental of bicycles and beach sports equipment and, not least, a booking agency for our many activities.
The shop in Rindby Strand has the full selection of the many kites that we sell. We have a very large selection of kites from HQ, Wolkenstürmer, Spiderkites and CIM. From simple child-friendly kites to trick kites and trainer kites for those who have developed a taste for kite flying.
We also have a large selection of beach chairs, shovels, beach animals and much more for a fun and exciting day at the beach.
If you want to try to find amber on the beach, we have the well-known amber lights from Ravfind, from the very cheap to the most luxurious UV lights. If you use them in the dark, the chance of finding amber is much greater.
The shop in Rindby Strand is also the shop where you can buy spare parts for your kite if the rods have broken or you need new lines. It is also from here that you can rent equipment for SUP, Kite-buggy and ATB landboarding.