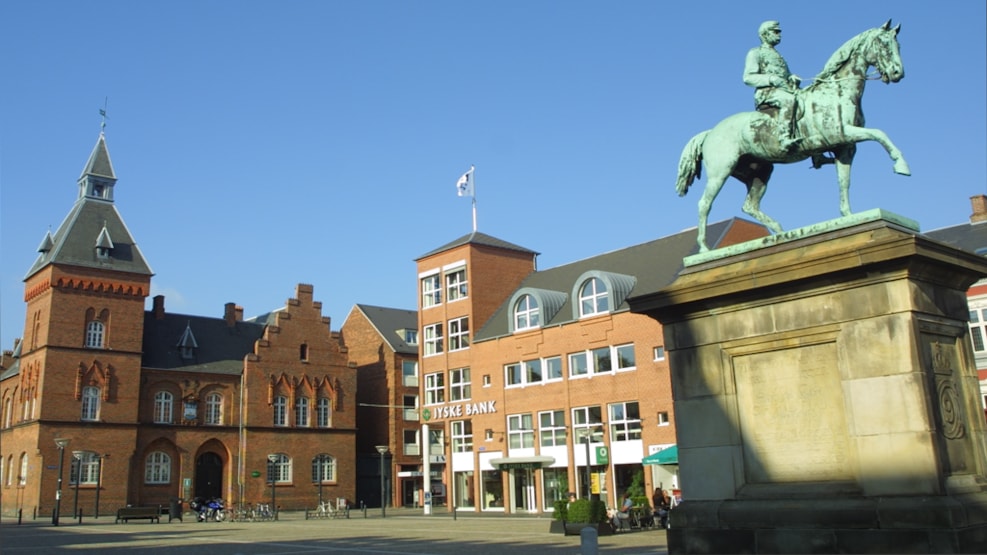 Equestrian statue of Christian IX on Torvet in Esbjerg
From his high horse, the founder of Esbjerg, King Christian IX, gazes out across the square towards the harbour.
After having lost the war against Germany in 1864, the Danish Parliament passed a bill in 1868 on the establishment of Esbjerg Harbour which Christian IX duly signed. The statue was raised in 1899 by the citi zens of Esbjerg in connection with the town gaining its municipal borough status. It was not unveiled, however, until the following year because of a strike, so the plinth stood empty for a whole year. The inscripti on reads "In Honour of the Founder of the Town, the Citizens of Esbjerg raised this Monument". There is also the Danish national coat of arms in bronze with the king's motto "With God for Honour and Justice".
Christian IX was also called the father-in-law of Europe, as he succeeded in getting several of his children married into European royal and princely houses. Two of his daughters became Tsarina of Russia and Queen of England respectively, and one of his sons was elected king of Greece.
The artist is Ludvig Brandstrup.