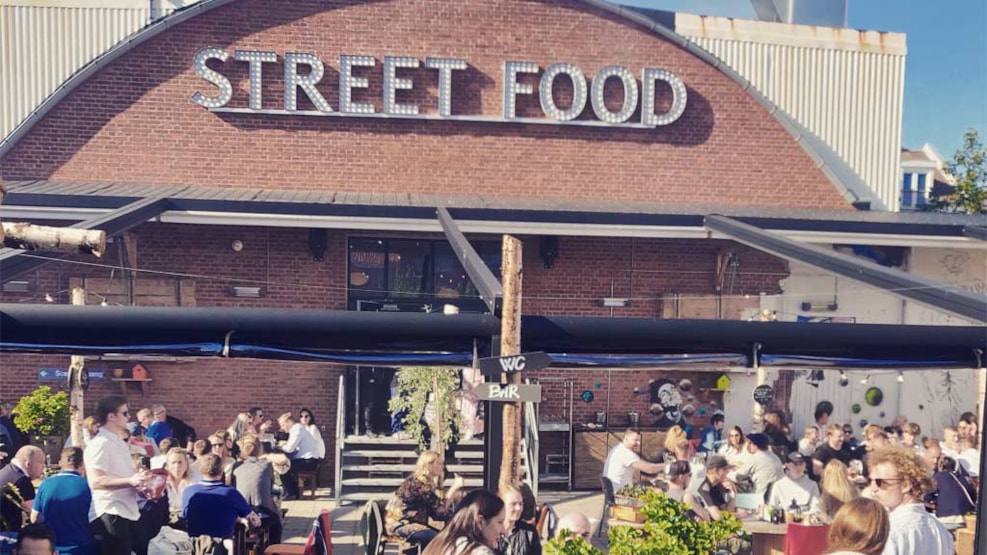 Esbjerg Street Food - exciting food stalls
Explore Esbjerg Street Foods' seven exciting food stalls offering dishes for all tastes, as well as three bars with a total of 57 beer taps.
Here you will find various craft beers, as well as cold drinks, sodas, coffee and much more. Take a seat at one of the longtables and enjoy the buzz of the crowd.
The Street Food concept has become a popular way of eating out, also in Esbjerg where Esbjerg Street Food is centrally located in the pedestrian zone of the 2000 m2 large Old Theater building.
The vision is to create a free space and a community that brings people together. If you are considering going out to eat in Esbjerg, then there is plenty of opportunity to meet up and sit down in the large food hall or out in the covered courtyard, which in both places buzzes with life.
If you want to sit in a more tranquil environment, you can order or bring the food down to Esbjerg Street Food's cozy café area, which contains soft leather sofas, coffee tables and quiet music. It is even possible to sit out in the pedestrian area and enjoy your food and drinks there.
At Esbjerg Street Food you will find food for the whole family, as well as a great place to enjoy lunch or dinner at a real Street maner.
The seven kitchens consist of
- Burger Anarchy
- Butcher's Pita Bar
- Marrakech (Moroccan cuisine)
- Bluesette Pancakes
- 400 Grader (Italian cuisine)
- Tandoori Palace (Indian Cuisine)
- Tapas And More
Esbjerg Street Food also has a func4on as being the city's cultural center. Here people can meet for live music, events and common interests. An ideal opportunity to invite friends or family down to one of the many free events.