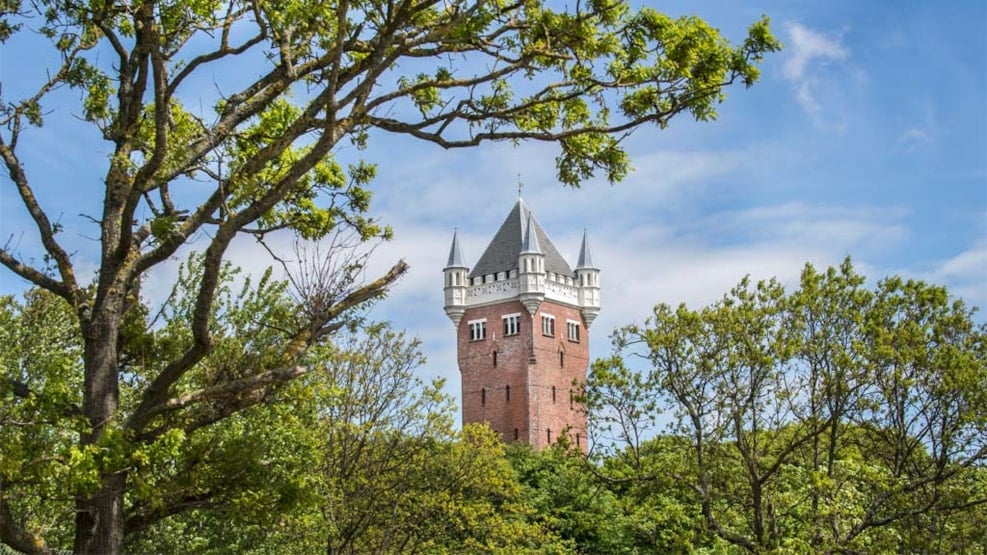 Esbjerg Water Tower - enjoy the view
Enjoy the view from Esbjerg's Water Tower, where in good weather you can see all the way to both Fanø and Ribe. On the way up, you get Esbjerg's history told in postcards.
The water tower was built in 1896-1897 on a burial mound from the Bronze Age on top of the cliff, just above the newly constructed harbor. The Tower was quickly known as Being located on the city's highest point towards the sea, it quickly became known as Esbjerg's landmark.
The architect behind was C.H. Clausen (1866-1941), who has clearly been inspired by a German presentation: Hans Nassau in Nuremberg, whom he has known from concurrent German architectural works.
ESBJERG HISTORY TOLD THROUGH POSTCARDS
Three of the water tower's floors are used as exhibition spaces, where "A greeting from Esbjerg" shows how the city has developed over eight decades.
In the first many years after the city's construction, Esbjerg wanted to show itself with impressive architecture. It had to look like what you could find in other European cities, with towers, spires and fine details. Later, it was progress that was emphasized and motifs from the modern industrial city were shown with functional buildings, tourist attractions and of course a lively port, which they were proud to show off.