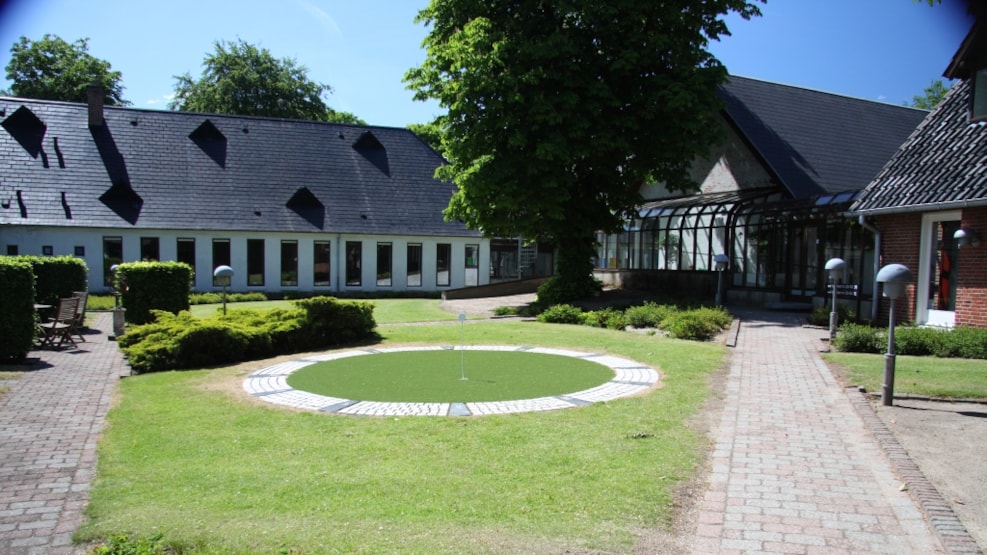 Hovborg Kro & Kursuscenter
Hovborg Kro & Kursuscenter is situated in the middle of the nature appr. 20 km from Legoland. In the area of Hovborg are large fir plantations where it is possible to walk for hours without meeting other people and enjoy the lovely and clean nature. A stream, Holmeå, winds through the inn garden.

Hovborg Kro & Kursuscenter has 51 wonderful double rooms with bath/toilet, radio, satellite TV and telephone. The Inn also offers non smoking rooms.

Hovborg Kro & Kursuscenter is well situated to visit Legoland, Givskud Zoo, the North Sea, Esbjerg, Varde, Herning, Vejle, Kolding or perhaps a trip to Germany.

Hovborg Kro & Kursuscenter is situated on road 425 between Billund and Ribe or exit 70 off the motorway E20 Kolding-Esbjerg.

For golf players Hovborg Kro & Kursucenter is an ideal place to spend a golf holiday. The Inn offers good golf arrangements, as well as green-fee agreements with the following golf clubs: Gyttegård, Give, Brande, Jelling, Varde, Blåvandsbik, Breinholtgård, Kaj Lykke in Bramming, Royal Oak, Vejen and Holsted.

Weekend stays, fishing holidays, wine tasting. A great part of the wine sold in the Inn is directly imported from Luigi and Luciana Brunelli San Pietro in Cariano, Valpolicella, Italy.

In the restaurant is served well-prepared Danish food including trout and game.

Hovborg evenings are a special arrangement with a buffet and dancing to live music.

Christmas buffet arrangements throughout December, and the last three Sundays before Christmas there are special Christmas arrangements for the whole family where Christmas dishes are served followed by dancing around the Christmas tree and after a guided tour to the wood where is it possible to fell your own Christmas tree.

Hovborg Kro & Kursuscenter is open all year except between Christmas and New Year.

Hovborg Kro & Kursuscenter is a member of Danish Inns and Hotels in the product group Dansk Kroferie.