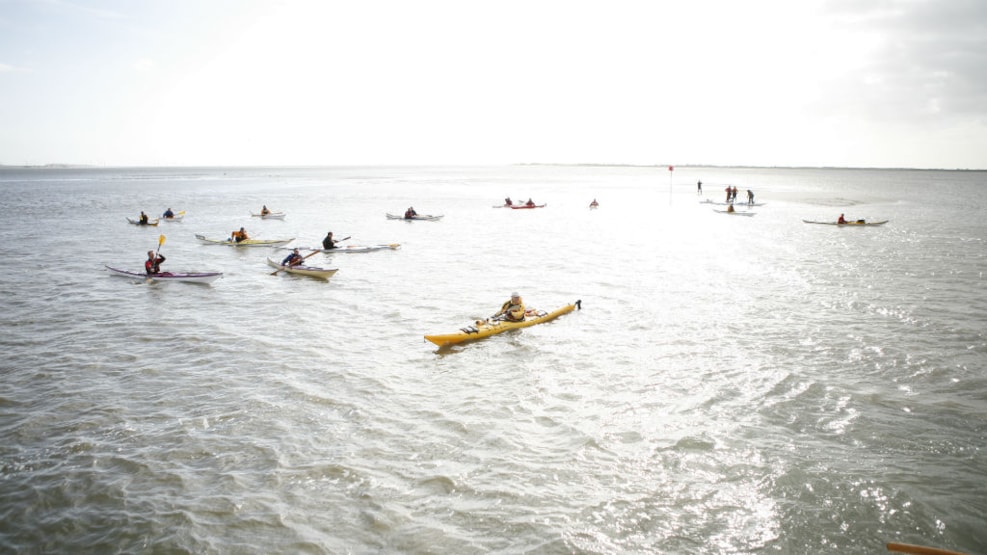 Kayak in the Wadden Sea - Fanø
Kayaking in the Wadden Sea is for the one who seeks new challenges.
When the sun is shining, the water is smooth as a mirror and you can see where the ocean ends and the sky begins - it can be hard to picture that the Wadden Sea is one of the most challenging waters to row in Denmark.
Actually, you will find many days here with calm waters where most of the challenge is to read the tide calendar correctly so that you will be sure to have the current on your side and water enough under the keel.
 On those silent days it is pure tranquility to row around in the Wadden Sea. The tide does the job for you. If you have timed it correctly, it will actually be possible for you to have it like you were rowing in a small down stream river - however, in the ocean it is a very special experience! Of course, you can do the opposite, row against the stream, both on your way in and out, to get a good workout.
Some times you can be lucky to see a seal when is out, however, this only happens rarely. The Wadden Sea is a natural resort, Denmark's largest, and here it swarms with life; seals are plentiful and they are almost all over. If you are interested in birds, Wadden Sea is the place to be. 
It shall be mentioned that the Wadden Sea, is not suitable for beginners. There are areas that are safe enough, however, if you are insecure it is better not to go. You can also contact some of the local associations in the area for further information. Almost all the routes suggested on this site is at EPP2 level and more.
The greatest attraction in the Wadden Sea is the OCEAN! The great current - to have your trip timed correctly, to succeed in catching the current on your way out and back again, or to be at the right place just when the current is most powerful - then you can really play. To put the kayak in the sea an evening when the weather is all quiet and you can almost see all the way to England, which is the next point at the map. Or to do the same a day in autumn with stormy weather and great waves. The water is very varied! And it is this combined with the wind that determines and shapes everything in this area. The tide changes the landscape and it can be surprising how much it changes.
Peter Holland, Kayak instructor