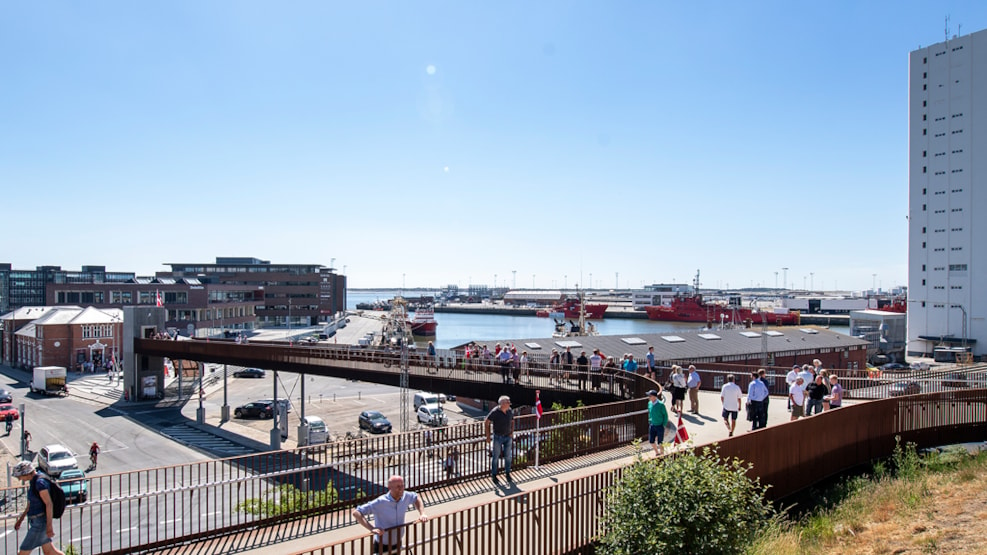 Landgangen in Esbjerg - a path between port and city
Landgangen is a safe and beautiful promenade for pedestrians and cyclists in Esbjerg, which connects the dock harbor with the city center of Esbjerg.
The Gangway (Landgangen) - a secure new corridor for pedestrians and cyclists between Esbjerg's Dock Harbour and the city centre. The Gangway is the name of the new, rust-red steel cycle and pedestrian path that winds its way from the centre of Esbjerg out to the Dock Harbour. Highly appropriately, the new link has been opened in this anniversary year of 2018, when both harbour and city are celebrating the fact that it is 150 years since both came into being with the state undertaking to build a harbour at Esbjerg. 
The Gangway and the Harbour Promenade
The Gangway is shaped like a tree branch of Corten steel that stretches from the city out across Kleven and all the way down to the harbour. The unusual form of the gangway results in many surprising angles and curves that offer a number of fine stop-off points, pathways and vantage points. The burnt, orange-brown colour of the Corten steel means that the Gangway merges naturally into the landscape scene of Kleven and the City Park. And the rawness of the steel creates a connection with the industrial history and urban life of the city. The Harbour Promenade runs along Havnegade. While the Gangway is made of steel, the Harbour Promenade has been cast in concrete, edged with steel.