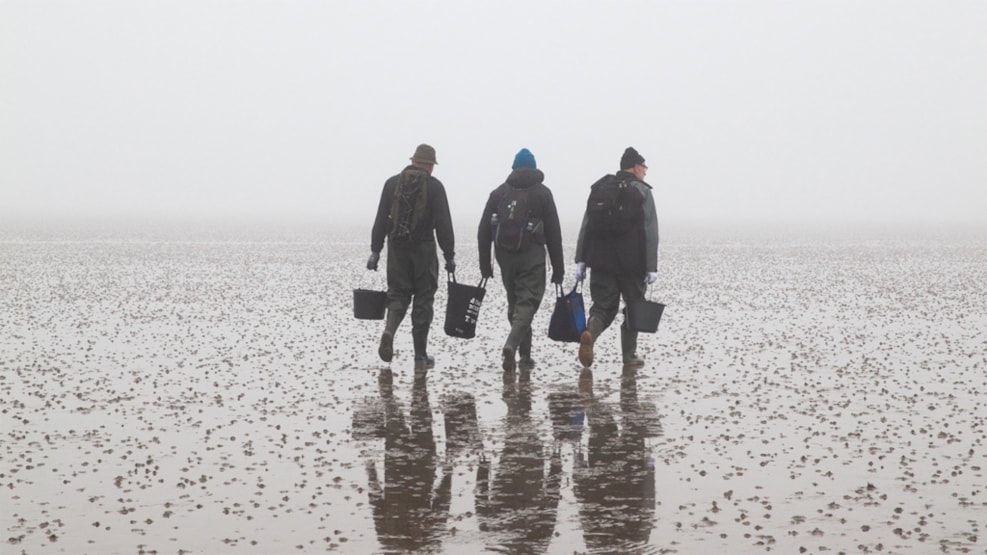 Mandø Oysters with the Wadden Sea Center
Join our oyster tour in the Wadden Sea National Park.
During this oyster tour we will walk approximately 4 km, so everyone from the age of 8 can participate. We will meet at the Wadden Sea Center for a short introduction to the tour. From here you drive in our own cars over Låningsvejen to Mandø to pick oysters. Låningsvejen is a road which is flooded at high tide. 
In the Wadden Sea it is the tidal waters that decides how the tour will be. Should it therefore not be possible to drive to Mandø the nature interpreter will try to find an alternative area with oysters.
From the Mandø dike we will walk across the dry seabed to an area with plenty of oysters. Here there is time to taste and pick oysters to bring home. During the walk we will also take a look at the amazing wildlife and unique landscape, which is a UNESCO World Heritage Site.
The tour is in waders, as we need to cross a tidal inlet to reach the oysters. The waders can be borrowed from the Wadden Sea Center and is included in the ticket price. Normal pants are suitable under waders. If it is cold, thermal underwear might be a good idea.
Good to bring:
- Wind- and waterproof jacket
- Extra socks
- Drinking water and something to eat (fruit, chocolate etc.)
- Backpack or bucket to carry the oysters home (buckets can be purchased at the Wadden Sea Center)
- Gloves for handling oysters (can be purchased at the Wadden Sea Centre)
- Oyster knife (can be purchased at the Wadden Sea Centre)
- Optionally, lemon and a bottle of bubbles