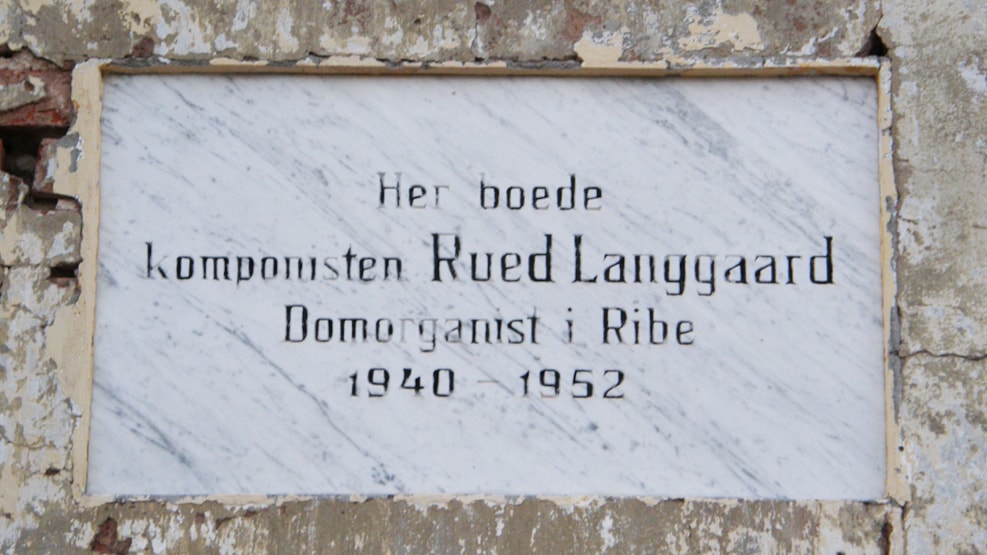 Memorial to composer Rued Langgaard in Ribe
A memorial in Ribe of the composer Rued Langgaard, born in Copenhagen on July 28, 1893.
Rued Langgaard was as a child given plenty of opportunities to develop his musical abilities, he received  lessons from his father Siegfried Langgaard, who was also a composer and for a short period of time he received lesson from Carl Nielsen.
At the age of 11 he had his debut as an organ player, and at the age of 14 one of his orchestral works was preformed. His hour long symphony no. 1 was premiered by The Berlin Philharmonic in 1913.
In Denmark the music world looked at the very productive but reserved composer with skepticism and in 1917 he was called an anti-social oddball.
Through a period of 20 years he applied for many positions as organist but was passed by. In 1940 he got his only real employment as organist and cantor in Ribe Cathedral. He lives the rest of his life in Ribe, where he is soon though of as an eccentric. With his long uncut hair, broad-brimmed hat and too short pants he stands out noticeably in the small market town. He died in Ribe Hospital the night between the 9th and 10th of June 1952.
Out of Langgaard's more than 400 compositions only about half had been preformed at the time of his death and most only once.