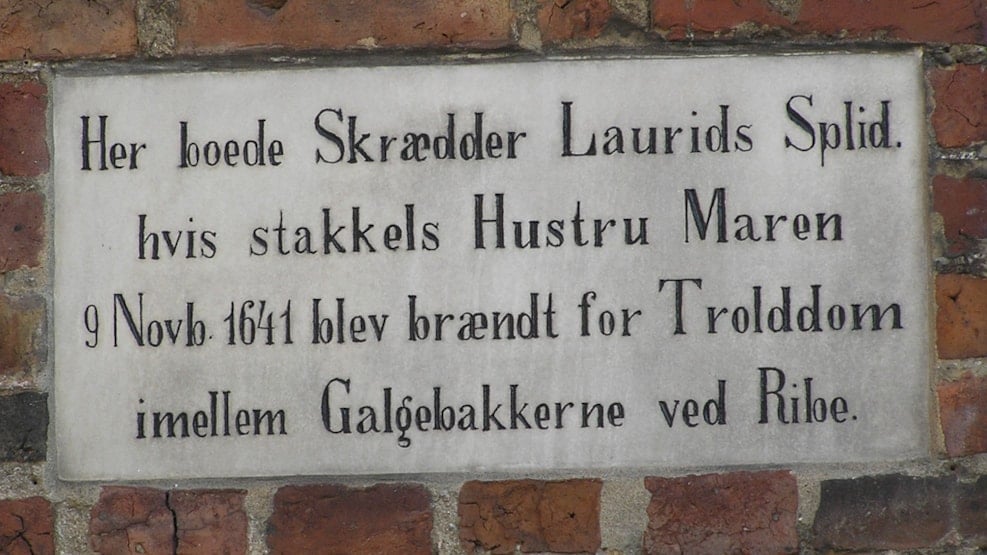 Memorial to Maren Spliid in Ribe
In Sønderportsgade 3, where Tailor Laurids Spliid and his wife Maren lived, one can see today the memorial plaque for Maren Spliid.
Maren Spliid is possibly the best-known "witch" in Denmark as a result of an unusually well-documented court case. She lived at Sønderportsgade 3 in Ribe. Following a dramatic trial, she was burned at the stake in Galgebakkerne north of Ribe on 9 November 1641 as one of the last women in Denmark to have been found guilty of practising witchcraft.
Maren Spliid was a beautiful and intelligent woman with a sharp tongue. She worked at an inn owned by her husband Laurids. Their neighbour, Didrik, was a poor tailor. When he was taken ill and vomited violently, he decided it had to be the work of the Devil. Didrik then remembered that Maren Spliid had promised him "ill luck" 13 years earlier - and obviously her curse had now come to pass.
Memorial plaque
Tailor Laurids Spliid and his wife Maren lived in Sønderportsgade 3. Here you will find the memorial plaque today.
The case
The case against Maren Spliid is very well documented and therefore well known. You can read more about Maren Spliid here: Danhostel Ribe
Witches in Ribe
Maren Spliid is not the only purported witch to be tried and burned at the stake in Ribe. There were 12 such court cases in Ribe between 1572 and 1652.
Anna Bruds was the last woman to be burned as a witch in Ribe, on 7 April 1652.