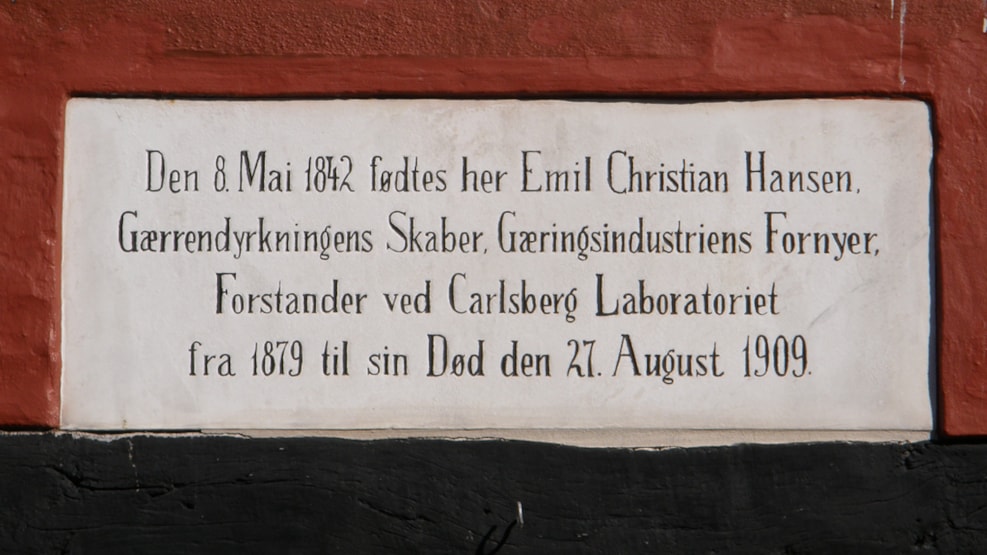 Memorial to the scientist Emil Christian Hansen in Ribe
Emil Christian Hansen was one of Denmark's greatest scientists, Emil Christian Hansen, was born in 1842 in a house on Nederdammen 35 in Ribe.
He became world-famous when, as a 40-year old, he discovered a method for propagating yeast used in fermenting of beer. His legacy to us is lager beer.
A vagabond's words of wisdom
Emil grew up under very modest circumstances. His mother was a laundress while his father, after a stint in the Foreign Legion, meandered about as an alcoholic vagabond. Emil, stubbornly persistent, managed to break though the social inheritance and took with him the vagabond's words of wisdom "Where there's a will, there's a way!"
Emil earned his bread and butter as a painter but he yearned for another life and left Ribe so he could study. He graduated from High School relatively late - he was 29 years old. At the University of Copenhagen he began studying microbiology and was soon awarded for his scientific research. In 1877, Emil started working at Carlsberg's laboratory. Two years later he was appointed head of Carlsberg's Laboratory.
Beer brews its last secret
Although beer brewing was known as far back as time of the Egyptian Pharaohs up until the 1880's, it was an almost mystical and untamable art. In the Middle Ages, brewers placed their trust in the blessing of the so-called "bad beer" sickness could suddenly ruin a whole brew and no one knew how or understood why.
In 1883, the "bad beer" sickness finally yielded up its last secret at Carlsberg's Brewery. Through his microscope, Emil had seen that the yeast used in the brewing process consisted of two types yeast was the reason for the "bad beer" sickness and Emil developed a method to isolate and culture what was known as the bottom yeast. The method was immediately implemented at Carlsberg plus in breweries the world over. This is still the method used today.
The Wahl-Henius Institute, Chicago has donated the monument The Yeast Girl to Ribe in memory of Emil Christian Hansen.