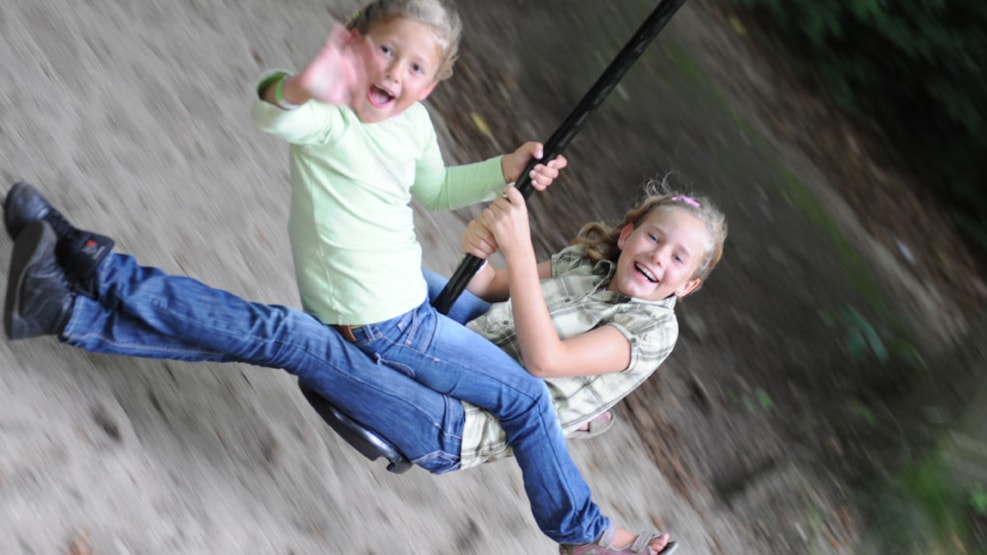 Play ground in Vognsbølparken in Esbjerg - Fairy tale land
The playground in Vognsbølparken in Esbjerg is a wonderland where anything can happen when the imagination runs free. The central part of the playground is a mini putt landscape with hills and a drained stream, which is crossed via a fine white bridge.
In the stream lives a large toad along with fish and down hammers. At the top of the snail mound Søren Snegl stops, and in the sandbox floats a group of jellyfish and firefighters, who you can jump on to safety on the bridge. The children are invited to continue playing between the park's trees. The nearest plantation is arranged as a "primeval forest" with many different clocks on poles. The planting also hides a cable car, so that in the shelter of the trees you can get wind in your hair and hiss in your stomach. In addition to the more natural decor, there is also a larger play structure with climbing opportunities and slides, swings and a small amphitheater, where a small group of children can sit together.
There is a toilet and a pavilion with benches on the playground. Vognsbøl Parken is originally an amusement park with large deciduous trees built around a stream. The watercourse is dammed and is experienced today as a series of continuous lakes. There are good opportunities to look at ducks and find insects and other small animals at the water's edge. In addition, the park contains a number of large lawns, several of which slope down to the water and form the basis for the city's best toboggan runs, but also in summer the sloping lawns are attractive for playful guests.