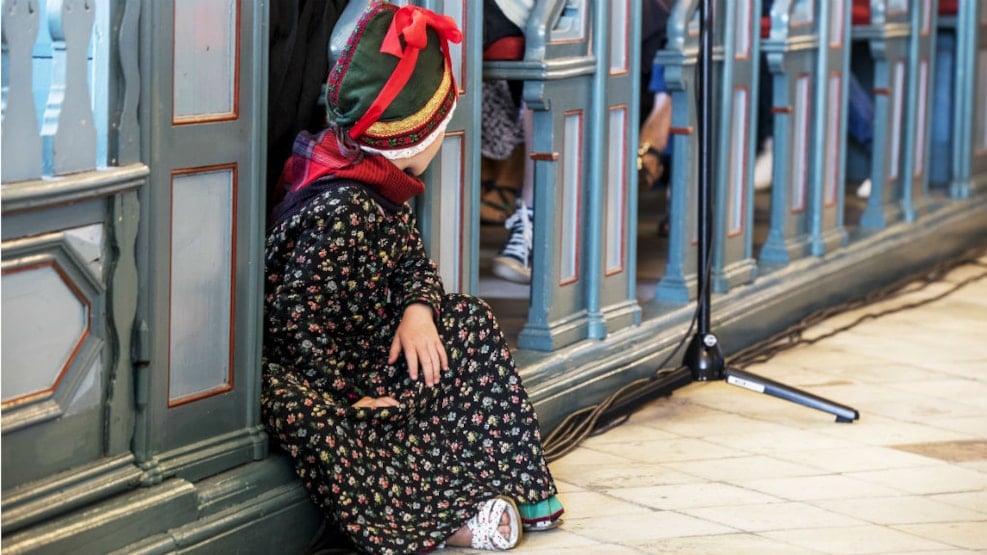 Sønderhodag on Fanø
Fonden Gamle Sønderho arranges Sønderhodag every year in July, Sønderhodag is an old tradition of bridal processions for Møllebanken.
Sønderho Festival  
On the 3rd sunday in July the annual bridal-festival is celebrated in Sønderho.
At 10 o´clock service in Sønderho Church begins. For the occasion many women and children will attend in traditional costumes.
At  2 o´clock the bridal procession will start from Børsen and move through the narrow streets towards Sønderho Mill.
The fiddlers lead the procession followed by bride and groom, 2 bridesmaids and 2 bridesmen. The 3 women are wearing beautiful bridal gowns and –crowns. About a hundred women and children dressed in traditional costumes take part in the procession. Horse-drawn carriages take the youngest children to the Mill.
At the Mill the wedding-dances and the variety of costumes are presented and explained, finally everybody is invited to join the traditional Sønderho dancing.
Returning to Sønderho the celebration continues with music and dancing in the narrow streets.
In the evening there is a huge party in Sønderho Forsamlingshus (the village hall).
Usually the dancing goes on into the small hours.
Everybody is welcome.