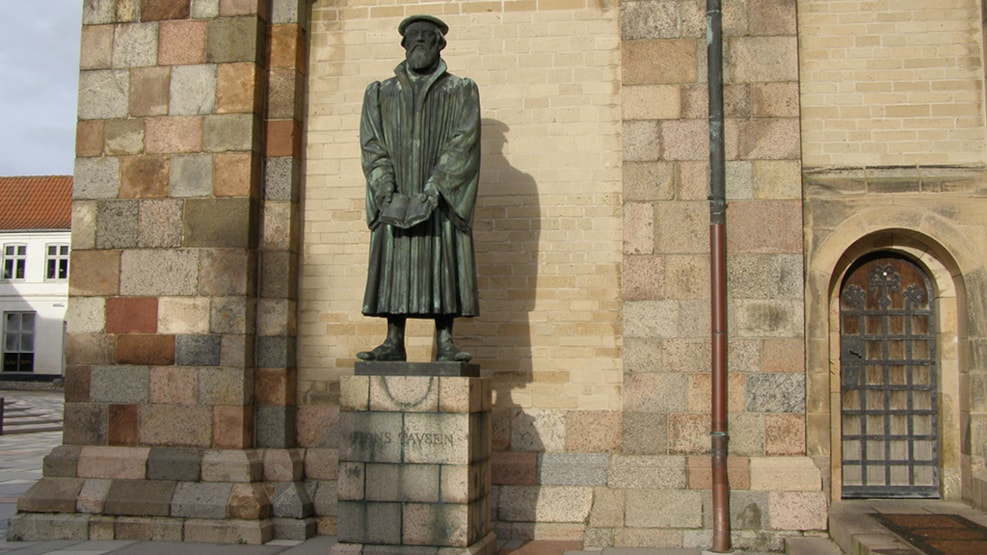 Statue of Bishop Hans Tausen in Ribe
Johannes Bjerg's Statue of the Theologian Hans Tausen, 1942.
The theologian Hans Tausen (1494-1561) is one of the definitely leading figures of the Reformation in Denmark. Though, allegedly, the son of a peasant, as a monk at the Antvorskov Monastery he had the opportunity for studying theology at several universities, including Wittenberg where he made Martin Luther's acquaintance. Shortly afterwards he joined the Lutheran reform movement and brought the rebellious ideas with him to his native country. However, in his showdown with the Catholic Church in Denmark he was met with considerable resistance (not least when he married!), but after the Reformation in 1536 he increasingly achieved common recognition before being appointed bishop in Ribe in 1542.

In the four-hundredth anniversary of his consecration a group of Ribe citizens wanted to have a statue set up by the cathedral, and thanks to various kinds of financial support, they succeeded in getting the sculptor Johannes Bjerg (1886-1955) to create the enormous bronze measuring over three metres. The authoritative look on his face and his heavy garb, the vertical folds of which emphasize the upward sharacter of his figure help to cement Hans Tavsen's undisputed position in Danish church history. Here you see an ecclesiastical man represented as a hero as well as a prophet, a manly advocate of the right faith and at the same time an inspired preacher of the Christmas Story as is seen from his opened book of sermons. In his representation of historical persons, Johannes Bjerg is often dryer and more academic than what is seen in his less closely defined commissions, but in this very case the style seems most well-chosen.