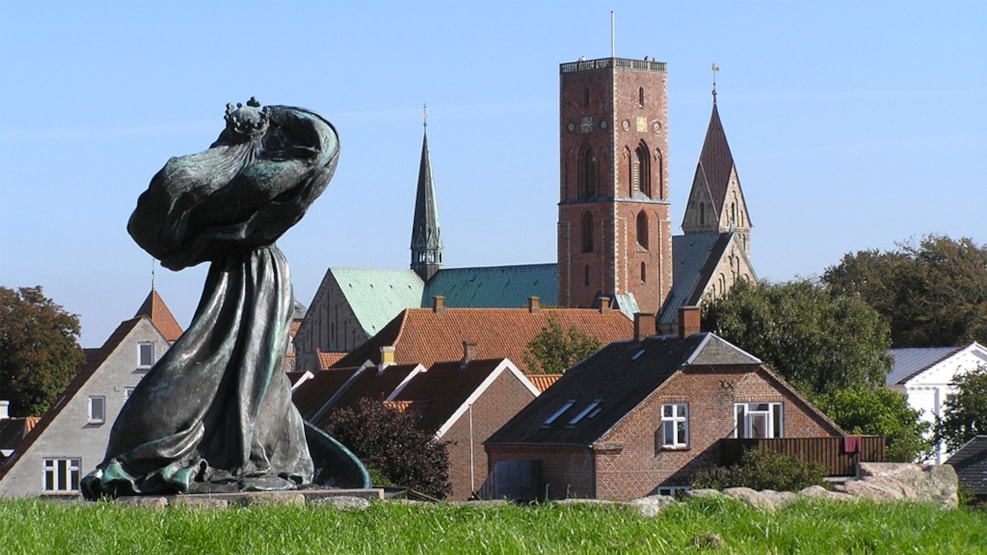 Statue of Queen Dagmar in Ribe
Anne Marie Carl-Nielsen's statue of Queen Dagmar, 1913, the statue stands on Slotsbanken in Ribe.
On the palace hill of Ribe, where the grand castle Riberhus used to be so beautifully situated, a young woman in lonely majesty is seen standing in the front of a boat. She is carefully watching the land that is now supposed to become hers by her marriage to the Danish King Valdemar the Conqueror (1202-41). As the daughter of the Bohemian king she is well aware of the onerous duties to come, but it doesn't seem to bother her. Proud and secure, with the lovely clothes fluttering around her well-shaped body, she lifts her crowned head towards the future. The foaming waves promisingly indicate the prosperous life which she is about to bring to the Danish country. As is written on the base of the sculpture:"She came without weight, she came with peace, and she came as a solace to the good peasant.
"In her portraying of the beautiful and gentle queen Dagmar, the sculptor Anne Marie Carl-Nielsen (1863-1945) seems to have been inspired by the classical Nike from Samothrace (Louvre), representing the Greek goddess of victory, while at the same time her artistic expression is clearly influenced by the softly swung Art Nouveau style. In this way Anne Marie Carl-Nielsen combines the noble past with the living presence in her bronze work, and in doing so, she manages to depict a woman who accepted her destiny as a royal person and still insisted on being the queen of the people's heart - always on the side of the weak and poor.